MilbeGuard

®

(milbemycin oxime)

Flavored Tablets
EFFECTIVE. AFFORDABLE. TRUSTED
MilbeGuard® is a once-a-month tablet available in four sizes in color-coded packages for oral administration to dogs, puppies, cats and kittens.
Contains an active ingredient backed by veterinarians for nearly 30 years1

FDA-approved

Monthly meat-free, beef flavored tablet

Easy to use
VIEW FULL PACKAGE INSERT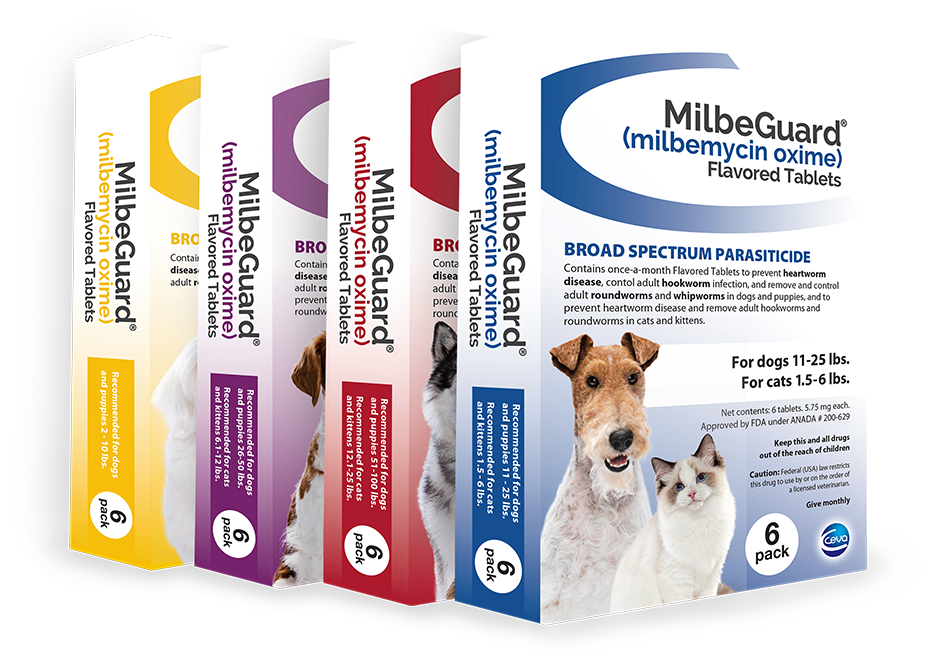 Great Value for Great Coverage
MILBEGUARD® IS FORMULATED FOR BOTH DOGS AND CATS
Prevents heartworm disease

Controls adult hookworm infection

Removes and controls adult roundworms

Removes and controls adult whipworms
Prevents heartworm disease

Removes adult hookworms

Removes adult roundworms
TALK WITH YOUR VETERINARIAN
When discussing heartworm prevention with your veterinarian, ask about MilbeGuard®.
IMPORTANT SAFETY INFORMATION: Dogs and cats should be tested for heartworm prior to use. In a small percentage of treated dogs, digestive and neurologic side effects may occur. Safety in heartworm-positive cats has not been established. Safety in breeding, pregnant, and lactating queens and breeding toms has not been established. In cats, safety studies up to 10 times the label dose did not detect any adverse drug reactions.